HOW TO REACH US
Where is Padova and how to arrive in town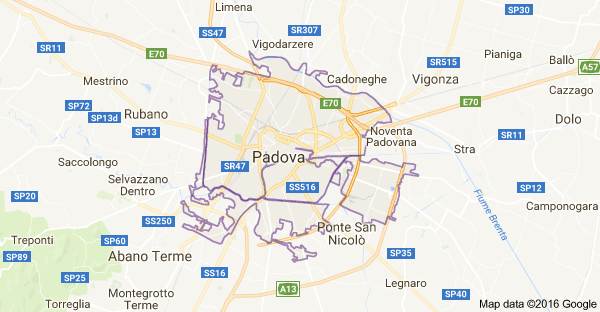 Where it is
Padova is located in the middle of Veneto Region, in north eastern Italy, 40 km west from Venezia (Venice) and 90 km east from Verona. Its central position makes it very easy to reach it by plane, by car or by train.
By plane
The international airports of Veneto Region are Venezia Marco Polo International Airport (www.veniceairport.it), Treviso (www.trevisoairport.it) and Verona (www.aeroportoverona.it), all very close to Padova city center. A collective taxi service provided by Taxi Air Service picks up travellers from Venezia airport and delivers them directly to their final destination. Service must be booked in advance and will be paid on board (www.taxipadova.it). The average trip takes about 40 minutes. From Venezia and Treviso there is a regular coach service from SITA bus company (Sita Nord - Sita Sud). Trip takes about 1h10' and ends at Padova Coach Station in Piazzale Boschetti, where local buses and taxi are available. Tickets can be bought at airports. Pick up points are just outside arrivals. From Verona there is a coach service to the railway station where the national train service Trenitalia (www.trenitalia.com) provides at least a train every hour to Padova. Trip takes from 45 to 60 minutes depending on the train.
By car
Two major motorways ("autostrade") connect Padova to main cities in Italy and Europe: the A4 Milano-Venezia cuts northern Italy east to west and the A27 Bologna-Padova connects the city with Bologna, Firenze, Roma and the South. To plan your trip by car in Italy:www.autostrade.it For further information on the Brescia-Padova part of the A4 Milano-Venezia www.autobspd.it
By train
Direct connections with major cities in Italy are provided by the national train service Trenitalia (www.trenitalia.com). Milano and Firenze (Florence) are about 2 hours away, Roma (Rome) and Torino, about 4 hours. Venezia city center can be reached in half an hour, Bologna in about one hour.